In 1989 I bought my first car: a beige, base model Honda civic hatchback. This car came equipped with a 4-speed manual transmission, air condition, and not much else that wasn't required by law. Ticket price for this treasure was $8. The funds for this car came from my first job, working the night shift at a gardening supply warehouse, delivering gardening supplies to stores all around Baltimore. A few months after I bought this car, I lost that job.

Learning to drive a stick was irksome. I knew the basics of stick, but getting all the coordination down took forever. Shifting at road speed was easy, but starting and stopping was where all the challenge was. I remember adrenelin rushes every time that I had to stop and turn. I never knew if I would stall the car or not.

I named my car Basil after the character Pazu from Laputa. They both seemed like little beige troopers that could.

For the life of me, I couldn't find a picture of a beige Civic, and I couldn't find of my own pictures of my Civic, so here's a silver one. My didn't have any sort of moon roof, but it did have hand-cranked windows that those louvered rear windows.




Three months later, I found a new job. I would use my fledgling PC skills to repair PCs at pharmacies all over Maryland, Delaware, Northern Virginia, a bit of West Virginia, and southern Pennsylvania. Back in those days, the bad old days, computers sure did like to die terrible, horrible, no-good deaths at the bat of an eye. They were big, expensive, and businesses held onto them for a long time. To get more out of them, some had custom DOS OS's that let terminals access them.

During my first winter, and my first snowfall, I discovered how sucktacular my tires were. I am surprised that I made it home during my first snowfall. The tired did nothing but slide. Not long after that, I replaced my tires out of self-defense. My tires weren't snow tires and they hated driving in the rain. My new tires actually worked in the rain and worked well in the snow, too, which converted me to the cult of good tires. I'll happily get overchanged for tires because I know what bad tires are like.




My friends ribbed me for getting a civic. All my school friends bought Ford Probes or other nice, sporty cars. I bought a Civic. My D&D group at the time suggested that I turn my Civic into a sports car as a joke. In time, the joke would be on them. I would never turn my Civic into a sports car, but others were. The Civic had a few traits which made it a great car for modding. First, the Civic was light. I could push that car up a hill by myself. I could pop start it drifting backwards across two parking spaces. (I frequently forgot and left my lights on.) Despite being light, the car was very stable, with a very low center of gravity. Put that together with an easily tinkered engine and a low price, and you had everything necessary to be a great beater. Every HP that you put into one of those cars came straight back out. By the late 90's, the Civic was among the favorite cars for street racing. Little did I know that I might be ahead of the curve.

The only real modding that I did was to put a wooden shift knob onto the stick, and put a wrap around the steering wheel. The knob was for show, but the extra grip on the wheel was absolutely needed. Also, car seat covers because vinyl seats are for the birds.

I had a tendency on this car to drive using my wrist. The bottom of the wheel was open, so I would just hang my wrist there and cruise along, never having to worry about my arms getting tired.

I must confess to leaving the windows open during the summers. On more than a few days, I came out to a soaked front seat, so I worked out various ways of not getting my seat wet, but the results were never any fun. Keeping your behind on a wet seat for hours is a repice for woe and an itchy ass.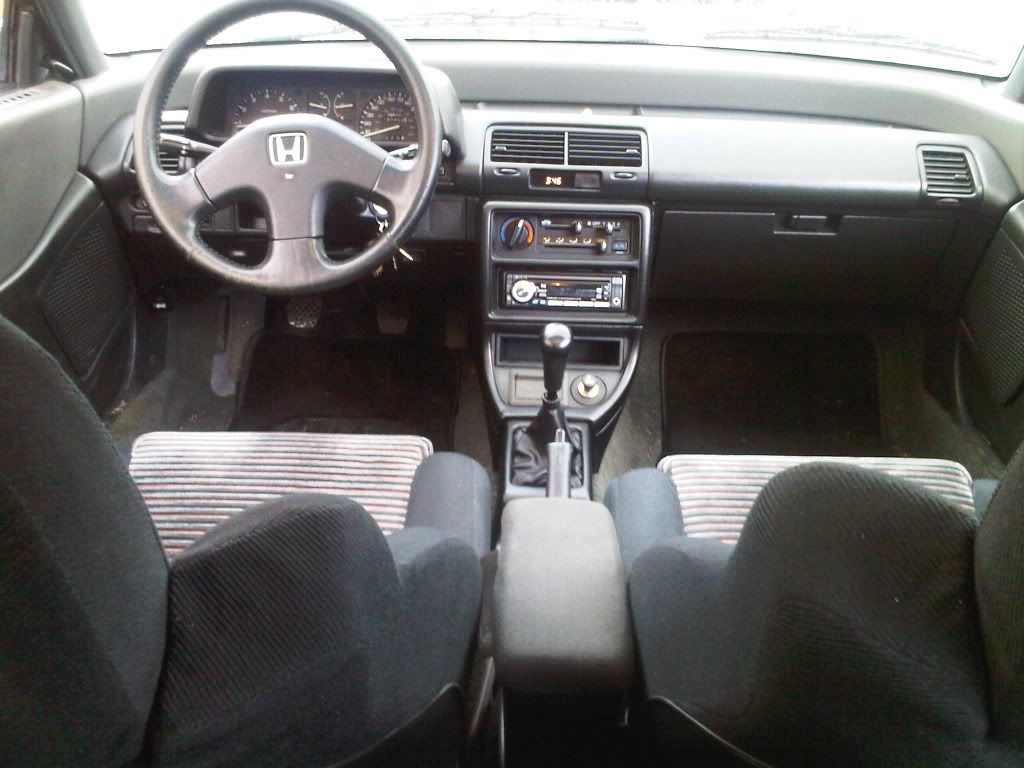 When the gulf war hit, the Civic made me a mint. As I drove about for a living, I earned mileage on my private vehicle. My Civic got me 40 mpg, and well tuned, could hit 45 mpg. As gas prices spiked during the golf war, the payments spiked as well. My little gas sipper barely noticed. I wound up earning so much from mileage in 18 months that the mileage flat-out paid for my car, and that's taking out insurance, gas, and tires.

My Civic was usually good in the snow. I rarely got stuck. I took the thing out after a major blizzard with no trouble. Ice was a different story. I was driving out to Herndon with Paul in tow when we hit a patch of ice on 270. A brief bump swung the car around in a graceful twirl, leaving us going backwards on 270 at 60 mph. Knowing this was bad, especially as there was a stuck car ahead of us, I flicked my front-wheel drive wheels, gunned a bit, and righted the car back around. After that, it was as easy drift over.

That wasn't the only accident or near accident. I did have to dive off the road once to avoid the tail end of a bus. That was easy. Scarier, I had a truck towing a race car decide that it wanted to be in the left lane for no goddamn reason. The car pushed me into the medium out in western Maryland. Fortunately, everything turned out OK.

The only accident was when I tail-ended a woman on the Washington beltway. I still feel bad about that. I jammed down my foot, but put the weight onto my heel, not the toe, so I didn't brake well enough. Bam, she got it in the rear and I got an almost perfect circle poked through my bumped. I drove it home, too. After my car had gotten fixed, I found that the mechanics had taken all my spare change from the car and one of my mixed tapes. To this day, I don't remember what was on it, but I still wonder. It's like a lost pet. It's gone, but you don't want to forget.

I did eventually get a radio for the car. Crutchfield provided everything that I needed. Wiring the antenna in was the hardest part as I had to get the antenna down through the frame to a place where I could find it. Everything else just got pulled to where it needed to go. Once I had a cassette deck, I had happiness. That was the golden era of mixed tapes for me as I really liked having my tunes on those drives. Albums got put onto loops for days at a time. Particularly good survivors were the Bangles' All Over the Place, both Voice of the Beehive albums, all the Reivers albumbs, and Concrete Blonde's Bloodletting.

I wasn't very social before I started driving around in that job. I had never needed to be. My social skills were truly terrible. But visiting pharmacists over and over got me lots of social practice and my social skill pretty much went through the roof. Going to a job site became going to visit friends and fixing their computers. Me and those pharmacists had a great time together (except for those killjoys who werent' any fun.)

The hardest part of driving was that no amount of rushing could get you there faster. You could go faster, but really, it didn't matter. I just had to be patient and drive there. Sometimes the tedium of driving got to me. Getting bored of the highway system, I dropped back to using the rural route system which predated the highway system. The back roads were usually far more interesting than the main road, which helped me to stay awake, by God. I didn't drink coffee back then, so something had to keep me engaged. I knew my routes by the time that I was done. I could tell you how to get between any two pharmacies in my territory, off the top of my head, including how long it would take to within five minutes. Yeah, I was good.

Staying awake during the winter seemed especially hard. I would bundle up, roll down my windows, and stay awake in the cold.

On the job, I learned PCs and learned them fast. The techs down in Richmond were used to working with idiots who always needed to get talked through things. I usually only needed one call to learn something. This surprised them to no end, which I still find pathetic. By the time that I was laid of from that job, I had my foundation as a solid PC person.

I wound up selling the car in 1996 after I bought my Subaru. The dealership offered me $200 for it, so $500 seemed like good-enough to me. The girl who bought it from me didn't understand that you needed to hold it the clutch to start it, so that gave her some fits, but she worked through it. Meanwhile, I felt like I had sold my car down the river.